In recent years, Remote Patient Monitoring has made rapid strides into the mainstream of US healthcare, with both patients and medical providers embracing this technology for its numerous benefits. According to industry experts, virtualization of annual healthcare spending to the tune of $250 billion is possible, which can make the healthcare system much more cost-efficient.
Innovative Remote Patient Monitoring companies are leading from the front to help accelerate the pace of change and make healthcare more accessible, affordable, and effective for all. Some of the top-rated companies offer an integrated platform leveraging cellular-enabled RPM devices, while some others focus on selective elements of the Remote Patient Monitoring services ecosystem.
Let us look at the top Remote Patient Monitoring companies in 2022 that are driving a positive transformation in the healthcare sector by using cutting-edge RPM technologies and making an impact on people's health and well-being.
HealthSnap
HealthSnap has emerged as the industry-leading Virtual Care Management Platform that is facilitating the delivery of integrated, continuous, and remote patient care to help improve health outcomes. HealthSnap's cellular-enabled, pre-configured health devices, such as cellular scale, cellular blood pressure monitor, cellular glucose meter, cellular pulse oximeter, and third-party Bluetooth and Wi-Fi devices are delivering a connected, scalable, patient-friendly home health experience.
HealthSnap's Remote Patient Monitoring devices have removed smartphones and even Wi-Fi from the equation to make Remote Patient Monitoring simpler, more accessible, and more dependable. The pre-configured device is delivered to the patient's home, and all they need to do is take it out of the box and start using it right away with the automated transmission of the health data to their care providers.
Improving Patient Outcomes for Chronic Illnesses
As one of the leading Remote Patient Monitoring companies, HealthSnap is committed to maintaining transparency about the performance and efficacy of its Virtual Care Platform to improve clinical outcomes for various chronic diseases. The company's Remote Patient Monitoring (RPM) programs have been proven to improve patient outcomes and satisfaction with the following measurable results and published customer success stories:
Average weight reduction across all weight monitoring patients: -13 lbs (6% reduction)
Average reduction in systolic blood pressure: -15.1 mmHg
Average reduction in diastolic blood pressure: -8.2 mmHg
Average reduction in fasting blood glucose: -35.3 mg/dL
Percentage of patients reporting improved health outcomes: 70%
Percentage of patients reporting an increased sense of security since being monitored by care providers: 100%
Percentage of patients reporting a better sense of control over their health with the use of RPM devices: 84%
Percentage of patients reporting a better understanding of their health with the company's consultations: 100%
Percentage of patients who report having made significant lifestyle changes after participating in the company's RPM program: 75%
Integrated Platform for Remote Monitoring and Management of Chronic Diseases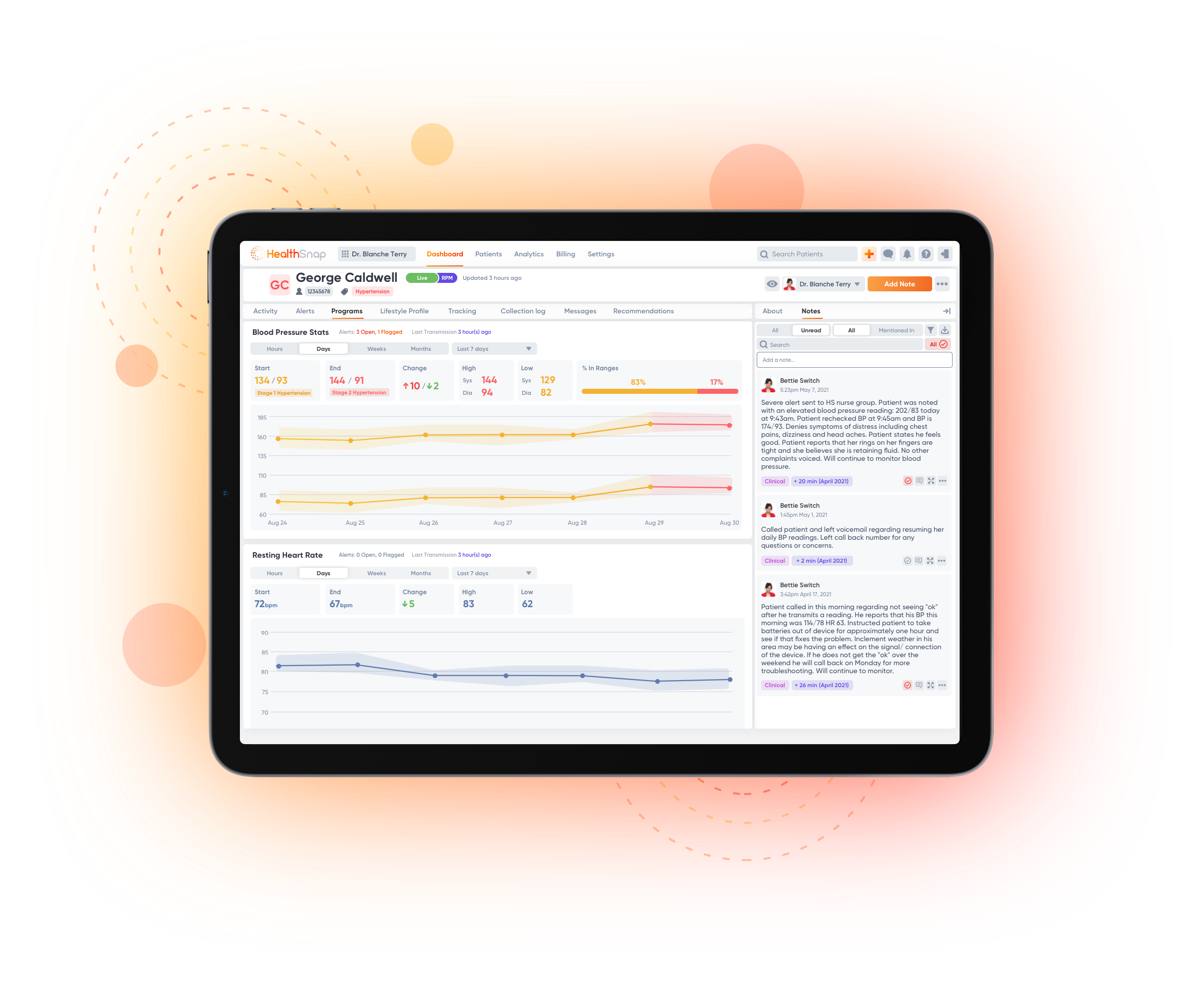 HealthSnap is a single, unifying platform that facilitates maximum performance for the entire care team while enabling greater visibility and control for the top management. Think of them as the operating system for remote chronic care management. Near real-time transmission of patient data and specific clinical alerts help the healthcare organization move from episodic, reactive care to proactive and continuous care.
Patient engagements are more personalized, clinical decisions are more effective due to higher availability of data, and care team members can perform more proactively to manage chronic medical conditions with greater efficiency. High-risk patients can receive more timely and appropriate care with access to patient-generated data, while better health outcomes and an increased level of patient satisfaction can be achieved for all.
Driving Down the Costs while Improving the Quality of Care   
HealthSnap's Virtual Care Management Platform is designed to help healthcare organizations and medical providers drive new revenues without causing any disruption to their existing workflows. The providers can bill for CPT codes specific to Remote Patient Monitoring, generating up to $1,883 in revenue per patient per year with the HIPAA-compliant, HITRUST-certified platform.
Taking innovation to a new level, HealthSnap's patented billing Eligibility Report and revenue cycle automation solutions remove the effort of accurately billing for Remote Patient Monitoring with automated documentation and billing compliance. This allows the healthcare organization to direct its energies toward its core mission of achieving excellence in patient care.
Thanks to its interoperable platform that integrates with more than 80 Electronic Health Records (EHRs), HealthSnap allows healthcare providers to remotely manage patient care right from their existing EHR solution. The company continues to invest in industry best practices and standards for reliability and governance as well as data privacy and security.
Shipping and Logistics Support   
With HealthSnap, the healthcare organization does not have to invest its own time and resources in handling the shipping and logistics for the Remote Patient Monitoring devices. Patients get the convenience of receiving the devices at their doorstep (at-home enrollment). They can immediately start transmitting the measurements to the care team without any need for set-up or installation.
For bulk device orders, HealthSnap enables on-site enrollment at the medical provider's facility. The patient enrollment process is completed in less than 30 seconds, and they can simply walk away with the device in hand along with a complete understanding of their remote chronic disease monitoring and management plan.
Optimize Health
Optimize Health offers an advanced Remote Patient Monitoring program aimed at delivering a high-quality experience for patients and healthcare workers. Built and supported by a highly competent tech team and more than 10 MD advisors, the company is a top provider of Remote Patient Monitoring services. Healthcare providers can start serving their patients quickly with Optimize Health RPM services and begin receiving their first reimbursements within 60 days.
High Platform Usability for Care Teams
Remote Patient Monitoring technology from Optimize Health is designed for high usability. Its in-platform features and tools make it easy for care teams to keep patients engaged and help the provider generate steady revenues.
Healthcare providers choose Optimize Health because it helps them lower costs while improving the care experience. Data shows that 95% of Optimize Health customers renew the RPM service and the patient adherence rate is 92% across 17 medical specialties.
Usability highlights include:
Efficient Workflows: Healthcare providers can centralize their patient data and measurements to enable result-oriented workflows, such as acting on alerts, sending a message, and click-to-call.
True Customization: From care team notifications to setting clinical reading thresholds, Optimize Health allows platform customization according to the unique needs of the practice and individual patients.
Compliant & Secure: The company's Remote Patient Monitoring platform integrates with the current CMS guidelines to ensure compliance and provide protection from audits while maximizing patient adherence.
Team Support
Medical professionals on the company's team are focused on delivering a superior patient experience, while closely consulting with the in-house technology team. Optimize Health utilizes its expertise to train and onboard the healthcare provider's care team to deliver excellent remote care and help improve patient outcomes.
Affordable Services
Optimize Health helps clients achieve success in their RPM program through its expert teams that help with coaching, training, coding and billing, workflow support, clinical documentation, EHR integration, regulatory support, and a dedicated Client Success Manager. The company's experts can take over some of the most time-consuming tasks, such as patient onboarding & monitoring at an affordable cost.
Cadence Care
Cadence Care is helping ensure better management of chronic conditions through high-quality Remote Patient Monitoring. The on-ground clinical teams at Cadence partner with the client's care teams to help deliver improved clinical outcomes. The company's flexible and powerful software platform is equipped to manage a wide range of conditions and care pathways.
Patient-Centric RPM Platform
The Remote Patient Monitoring platform of Cadence Care promises to deliver more personalized and responsive care for an enhanced patient experience. Scalability can be achieved because the Cadence platform and the company's clinical team can concurrently monitor hundreds of thousands of patients. To provide higher patient care standards, the Cadence platform allows for the customization of clinical workflows according to the provider's needs.
Proactive Approach to Patient Health
Patients can benefit from Cadence Care's proactive approach to their health in the following ways:
Daily Measurements
With smart devices powered by the Cadence Remote Patient Monitoring technology, patients can check vital signs on a daily basis, including pulse rate, heart rate, blood pressure levels, blood glucose levels, and body weight. Cadence Care monitors and analyzes the readings along with patient health records and symptoms. This keeps the doctors and patients in the loop in the event of any change in patient data.
Frequent Monitoring
Frequent or daily monitoring enables Cadence clinicians to provide safe and effective remote care, including adjusting patient medications. For patients with heart conditions, this ensures better GDMT (guideline-directed medical therapies) adherence. For diabetes and hypertension patients, this allows for more effective glucose and blood pressure control, respectively.
Engagement with Cadence Clinicians
Periodic telehealth visits with the clinicians from Cadence Care provide an additional layer of medical support for in-home patients as well as facilitate closer interactions with their care provider as necessary. With the Cadence Remote Patient Monitoring platform and clinical team support, it becomes possible to identify symptom exacerbations earlier and ultimately help reduce downstream complications, hospitalizations, and treatment costs.
Athelas
Athelas is a leading provider of Remote Patient Monitoring services, enabling healthcare companies to collect patient data while they are at home, improve patient outcomes, and generate new revenue streams for the practice.
A large number of healthcare organizations from large health systems to digital medical companies to solo practices are using Athelas software to launch their telehealth programs, operate intelligent medical billing, and provide superior patient care.
Advantages of Athelas RPM Platform
Healthcare providers get the following benefits when they choose Athelas Remote Patient Monitoring platform:
In-home Patient Management: Thousands of healthcare organizations leverage the power of Athelas RPM to deliver remote care to patients in their homes.
Higher Patient Engagement: Patients who participate in Athelas Remote Patient Monitoring program are 30% more likely to remain with the existing healthcare practice.
Delivery of Better Patient Care: According to Athelas, patients using its Remote Patient Monitoring services are likely to experience a 20% reduction in ER visits and hospitalizations.
New Revenue Streams: Along with better monitoring of patients, healthcare systems can earn on average an additional $100,000 or more in additional revenues when they use Athelas RPM program.
SIM-Connected Remote Patient Monitoring Devices
Athelas deploys SIM-connected RPM devices into the patient's home to obtain health data for review by the healthcare provider's clinical staff as well as the nurses at Athelas.
SIM-Connected Devices: RPM devices, such as glucometer, blood pressure monitor, and scale from Athelas are easy to set up and require no configuration.
Monitored by Nurses: Each patient's health reading is reviewed by the nurses at Athleas and escalated if the changes in data indicate a concern.
Preventative Approach: The Remote Patient Monitoring system from Athelas is designed to help identify health concerns early before the patient may require hospitalization.
Athelas not only focuses on monitoring patients' vitals but also helps improves health outcomes along with a reduced risk of developing co-morbidities. The company also manages healthcare provider billings, helping maximize RPM program reimbursements.
Health Recovery Solutions
Health Recovery Solutions or HRS provides a comprehensive, clinically enabled suite of patient-centric services and solutions that offer effective telehealth and Remote Patient Monitoring. The HRS platform for Remote Patient Monitoring is designed to improve patient satisfaction levels, lower hospital readmissions, and reduce clinician workload.
The platform helps ensure that care teams are always connected with patients, and are in a position to optimize workflows and make timely interventions to improve patient outcomes and reduce costs.
Highlights of HRS Remote Patient Monitoring Platform
10 years of proven results from top hospitals, health systems, home health agencies, Hospice, and physician groups
A comprehensive and customizable suite of RPM solutions with EMR integration
24/7 customer support and tech support for patients as well as clinicians
Robust partnership model including support, logistics, clinical advisory, reimbursement, and marketing and promotion
Easy to use, reliable, and innovative Remote Patient Monitoring technology
Helping care providers remotely connect with patients, track and monitor vitals, provide video visits, and make better care plan decisions
Helping improve patient satisfaction rates, lower readmissions, and optimize workflows through the delivery of proactive care
A high client retention rate of 98.3%
Remote Patient Monitoring Solutions from HRS
PatientConnect Complete
This all-encompassing and customizable RPM solution supports patient independents and self-management of symptoms by engaging with the participating patients.
PatientConnect Core
This patient-centric custom solution is designed for hospice, palliative care, and behavioral health patients, among other things. It's a tablet-only solution facilitating near real-time communication between the patient, caregiver, and care team for clinical monitoring and symptom management.
PatientConnect Mobile
Helping create a more personalized approach to Remote Patient Monitoring, this solution extends access to care across various patient populations using the company's advanced BYOD (bring your own device) offering.
PatientConnect Voice
This is an IVR (interactive voice response) solution, which makes use of the patient's RPM device to improve patient engagement and increased medication adherence after hospital discharge through automated medication reminders.
Accuhealth
Accuhealth is among the high-ranking Remote Patient Monitoring companies recognized for its EHR-connected devices that remotely monitor weight, pulse ox, glucose, and blood pressure monitors. The devices are configured to transmit patient data digitally back to the Accuhealth platform and the care provider's EHR.
Features of Accuhealth's Remote Patient Monitoring Solution
Accuhealth's turnkey Remote Patient Monitoring solution makes care delivery easier for doctors and their staff and more effective for patients. Some of the key features of Accuhealth RPM include:
EHR Integration at No Cost
The proprietary integration engine of Accuhealth integrates with over 50 of the leading practice-based EHRs. This seamless integration is offered at no cost to all clients.
Round the Clock Clinical Monitoring
The Health Operations Center at Accuhealth monitors patients 24/7/365 and is equipped to escalate cases based on pre-determined thresholds, reducing hospitalizations, clinical staff burden, and cognitive overload.
Risk-free Participation
The Remote Patient Monitoring program from Accuhealth comes without any requirement for long-term commitments or contracts. Providers can cancel anytime, and will only be reimbursed for participating patients.
Cellular-enabled Devices
All RPM devices from Accuhealth are cellular-enabled, easy-to-use 4G devices, and will work globally on all leading carriers. The first device is included for each patient. The company manages device onboarding, shipping, and device repair.
No-Cost Telemedicine
Accuhealth provides no-cost, unlimited telemedicine for all clients. Its on-demand virtual clinic for care providers enables them to see patients simply with the click of a button.
Fully Automated Time Tracking
Accuhealth Remote Patient Monitoring platform enables automated recording and time-stamping of all clinical interactions with patients. This helps create a secure audit trail, which is integrated with the patient's EHR medical record.
Compliance and Audit Support
Accuhealth offers one of the most compliant Remote Patient Monitoring solutions. All monitoring activity, phone calls, comments, and communication with patients done through the platform are recorded and time-stamped as part of the audit record.
24/7 Billing Support
Complimentary 24/7 billing support is offered to all clients to help ensure their practice success. The Billing Specialists from Accuhealth can relieve the burden of the provider's staff with regard to submitting claims, handling any type of billing issues, and enrolling the practice in auto-billing.
With Accuhealth Remote Patient Monitoring technologies, the healthcare organization can deliver concierge-level personalized care without having to invest more resources or hire additional staff. The clinical team at Accuhealth becomes an extension of the medical provider's practice.
TimeDoc Health
TimeDoc Health has built partnerships with hundreds of healthcare organizations to provide virtual care management at scale. The company's integrated Remote Patient Monitoring solutions are designed to transmit actionable in near real-time on chronic conditions to enable high-quality ongoing care management for patients. The TimeDoc Health RPM platform can help minimize inaccurate measurements, medication errors, and missed appointments, among other common patient concerns.
How does TimeDoc Health Remote Patient Monitoring Software Work?
The flexible TimeDoc Health RPM platform is designed to work with the existing EHR system that the healthcare provider is using. With total system compatibility, providers do not have to worry about switching their current systems. With seamless EHR integration from TimeDoc, it gets easy to monitor the patient vitals remotely alongside their medical charts.
The TimeDoc Health software program ensures that patient-submitted data on vitals is available automatically within the patient's health record. The software will instantly show averages of vitals for any specified period. When the measurements appear to be outside the patient's pre-defined range, the program will alert care teams, enabling them to make more timely decisions on the best treatment course.
Highlights of TimeDoc Remote Patient Monitoring Solution
Cellular-enabled RPM Devices
TimeDoc Health offers cellular-enabled, easy-to-use devices that are pre-configured. Patients can use the device right out of the box, and without requiring Bluetooth pairing, smartphones, Wi-Fi connectivity, or monthly data plans.
Improved Clinical Outcomes
With the actionable patient data from TimeDoc Remote Patient Monitoring devices, care teams are better placed to proactively support improved patient outcomes, while lowering hospital and ER visits. You can't beat that!
Automated Data Gathering
The RPM devices from TimeDoc Health are designed to automatically push health readings into the patient dashboard on its platform. The web-based powerful platform displays medical data in near real-time for timely insights, which is particularly helpful in the event of patient deterioration of symptoms.
Monitoring Multiple Conditions
TimeDoc provides a choice of self-monitoring blood pressure devices, blood glucose meters, and scales for weight management. All devices are cellular enabled to support tracking of multiple chronic conditions using enhanced healthcare metrics.
Custom Alert Settings
Healthcare providers can set thresholds for the complete RPM program or customize them according to unique patient needs. The settings allow the provider to decide how frequently the care team should be alerted when there is a change in the patient's vital signs readings outside the acceptable limit.
The Best Platform for Virtual Chronic Disease Management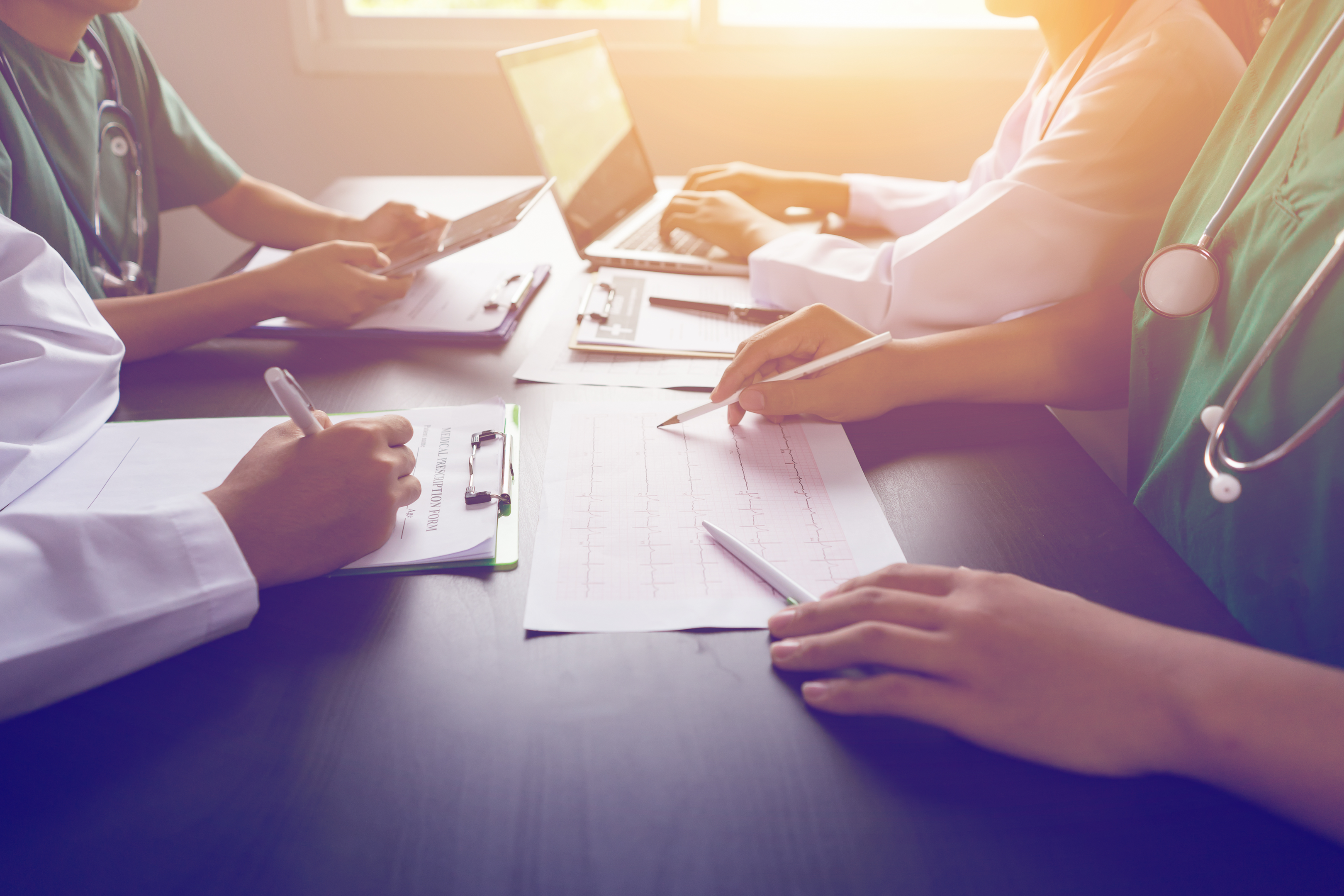 As a leading Remote Patient Monitoring company with a proven and interoperable Virtual Care Management Platform, HealthSnap offers a single, unifying platform for the entire care team to drive proactive and preventive patient care. Both patients and healthcare providers can thrive with the effective use of HealthSnap's integrated, all-in-one Virtual Care Management Platform. To learn more about the company or to request a demo of its RPM program, call today at 888-780-1872 or click here to schedule a consultation.